Products > Sleeves > Thermal / Flame & Fire Protection > 1200°F / 648°C - PLAIN FIBERGLASS LARGE SIZE GROUP
Braided Fiberglass Sleeve - Industrial Grade - Wire Cable Hose Pipe Protection
High Temperature, Heat & Flame Resistant and Thermal Insulating
1200°F / 648°C Continuous Exposure:
Higher Intermittent
DeltaGlass
high temperature and heat resistant fiberglass sleeve is a braided fiberglass (fibreglass / glassfibre) sleeve, fabricated from high quality type E fiberglass that will not burn and will withstand continuous exposure to temperatures of 1200°F / 648°C. It provides excellent protection for industrial wires, cables, hoses (hydraulics), tube and pipes and also provides thermal insulation and personnel protection.
This is a general purpose industrial grade sleeve available in a Thin Wall version (1/16" wall thickness) and also a Thick Wall version (1/8"). A
vailable By-The-Foot or in full spool lengths.
This high temperature sleeve / heat resistant sleeve resists most acids and alkalis and is unaffected by most bleaches and solvents. It is highly flexible and conformable.
Specific Gravity: 2.54-2.69
Breaking Tenacity: 1.71 gf/TEX. Std. 1.71 gf/TEX Wet
Effect of Heat: Will not burn; Retains 75% tensile at 343°C; Softens at 732-877°C; Melts at 1121-1182°C
Tensile Strength: 450,000-500,000 psi.
Effect of Acids and Alkalis; Resistance to acids is fair. Good resistance to most alkalis.
Breaking Elongation: 4.81% Std. 4.81% Wet
Effect of Bleaches and Solvents: Unaffected
Average Stiffness: 2824.3 cn/TE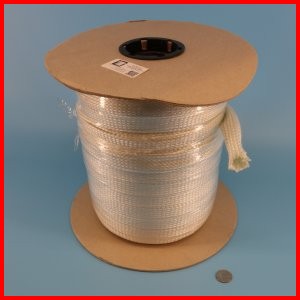 Fiberglass Braid Industrial Sleeve